This week I attended a rather different event than you would expect from me: ' The VMware SDDC Roadshow'. Raymon Epping (and others) organized this event to deliver some background info in the way VMware looks at software defined data centers and how this can effect the way we look at the transition.
The agenda looked very promising:
After the opening of the VMware SDDC by Raymon Epping and the keynote by Jeremy van Doorn the stage was all open for Tikiri Wanduragala (IBM) who had an entertaining story on the history and future of converged systems.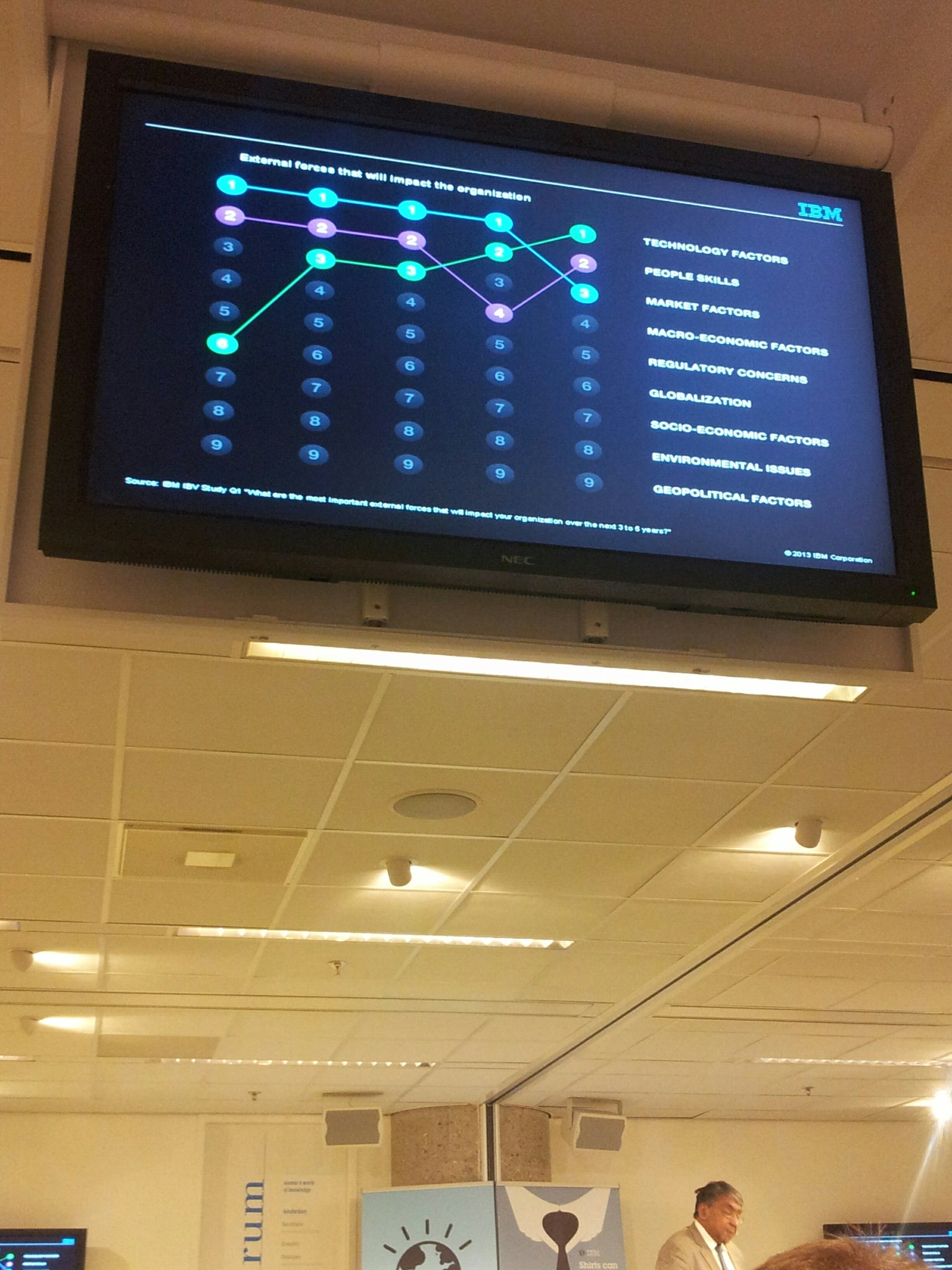 This slide showed research by IBM which displays the external forces that would impact business. Notice the tech comes first and people comes seconds. I was under the impression that CoIT (Consumerization of IT) was driven by users and not by technology.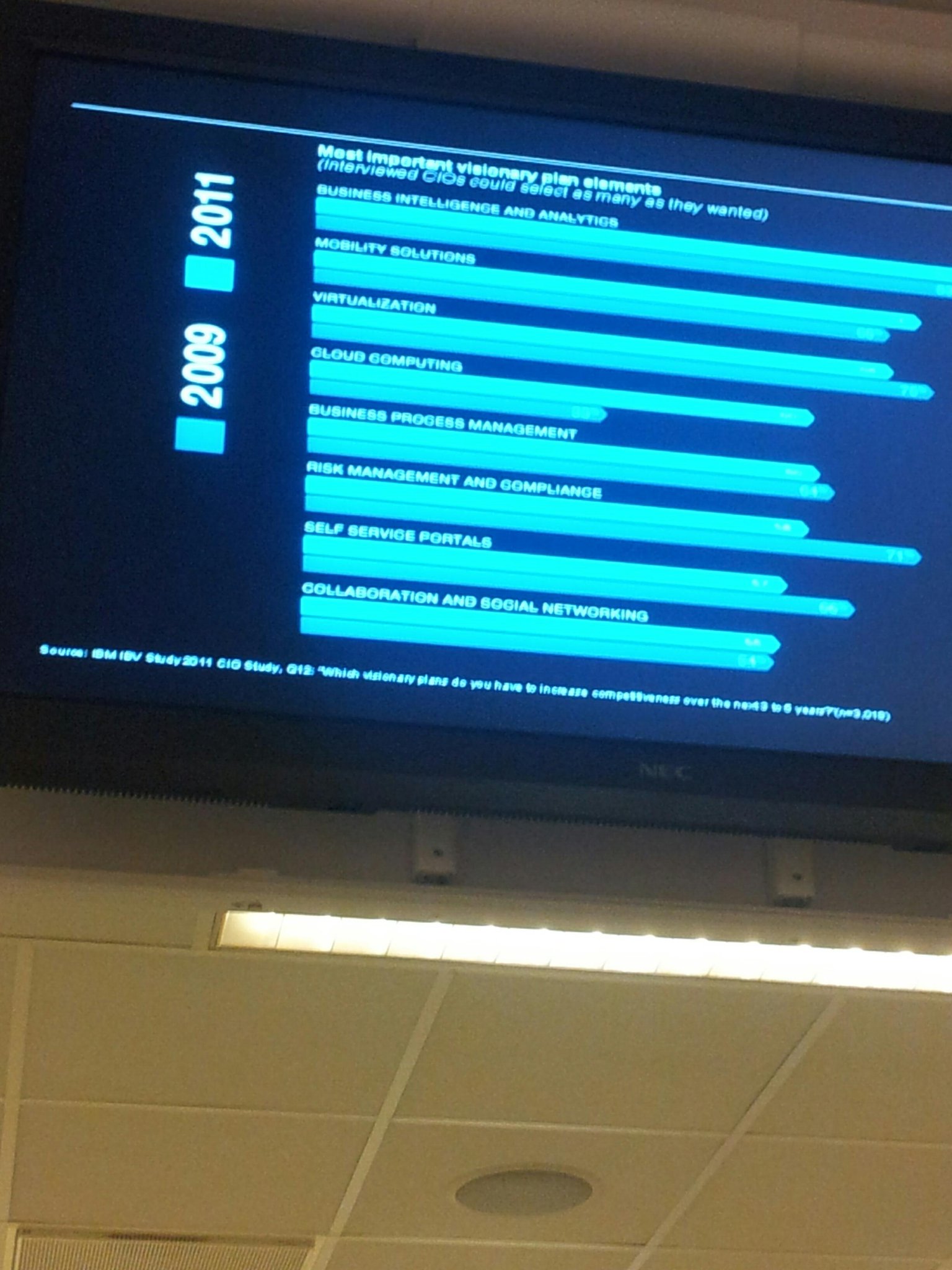 He also showed us this slide and one of the eye catchers for me was that virtualization is still an important visionary elements for IT where I was under the impression that virtualization would be commodity by now. The rest of the point are pretty much what I expected, lots of similarities with the Gartner hype cycles. The most important part for me was the Q&A session with the EUC specialist on site and it became an interesting Q&A, we talked about horizon, followed by view 5.2 and all improvements like blast. I heard a similar vision as I'm used to: mobility, apps, data etc and how the need for a traditional desktop is fading away with all these new technologies. Duco Jaspers could show me a demo of his Horizon beta installation and I must say that the performance was pretty good, even over a 3G connection. Although the story of VMware's EUC is pretty much the same as I normally hear, the approach is differently from.. let's say competitors. VMware is adding mobility with the Horizon suite but from what I hear there's no documentation on how to add SaaS providers to the portal (esp. the SAML part). Blast and Unity aren't in the GA and will be delivered in an update pack so the EUC part didn't move me, during the presentation I had a lot of moments thinking.. Is this right?
Is VDI more secure? Shawn Bass did an excellent series on security in VDI and TS concluding: "Nothing is guaranteed to be secure. All we can do is strive to make it more difficult for the hackers. At the end of the day, time is money. The more difficult it is to hack something the less inclined a hacker will be to spend the time to do so (unless you are a REALLY attractive target – then you need to rely on your information security practices to help you). Good luck…you'll need it!"
Does View have a real remote access solution? VMware View can be offered via 443 to the outside world based on RDP but why would you insult your users by providing them excellent internal performance and just use RDP for remote access? To enable PCoIP for remote access you have to use an exotic port as stated in VMware Horizon View Security PDF.
Is Horizon just one console? I was reading an article last week on the VMware pages which states that VMware Horizon needs 4/5 appliances and desktop pools can't be managed from Horizon Workspace console so you still need a VMware View console for management of your desktop pools. Btw, for all those not familiar with MCS/PVS: MCS, Citrix's best kept secret for server virt guys.
All in all I had too many questions for a solution that should be mature so I'm not convinced VMware EUC is the way to go. Although there are always use cases I'm pretty sure things like remote access are limiting. One of the use cases explained was a hospital with nurses accesing their core app via iPads and HTML5, they don't need audio, webcams and USB redirection (not supported right now using HTML5).
This sounds like a valid use case and with Unity Touch this could be pretty cool. When looking at Unity Touch it's the VMware solution for mobile devices to support full desktops interfacing better:
Knowing that Unity Touch isn't available right now these nurses first have to start a full desktop and work from there to their application which isn't optimized for touch. I know from my own experiment that working from a non-touch optimized desktop is a PITA so I guess this makes the use case a bit thin.
Having that said I did like the next sessions from Frank Denneman and Willem van Engeland about Resource Management and Cloud Computing, as I'm not to deep into the hypervisor the presentation from Frank was pretty clear and easy to keep up. The next presentation at the VMware SDDC roadshow was about Cloud Computing and was filled with slides about vCAC and vCD and how you can combine those two to get an SDDC based on VMware technology.
I had a great day, learned a lot and had a lot of good laughs and the session by Tikiri was a real eye opener so here's a big thanks to Raymon Epping for organizing this very cool event!
The following two tabs change content below.
Kees Baggerman
Kees Baggerman is a Staff Solutions Architect for End User Computing at Nutanix. Kees has driven numerous Microsoft and Citrix, and RES infrastructures functional/technical designs, migrations, implementations engagements over the years.
Latest posts by Kees Baggerman (see all)